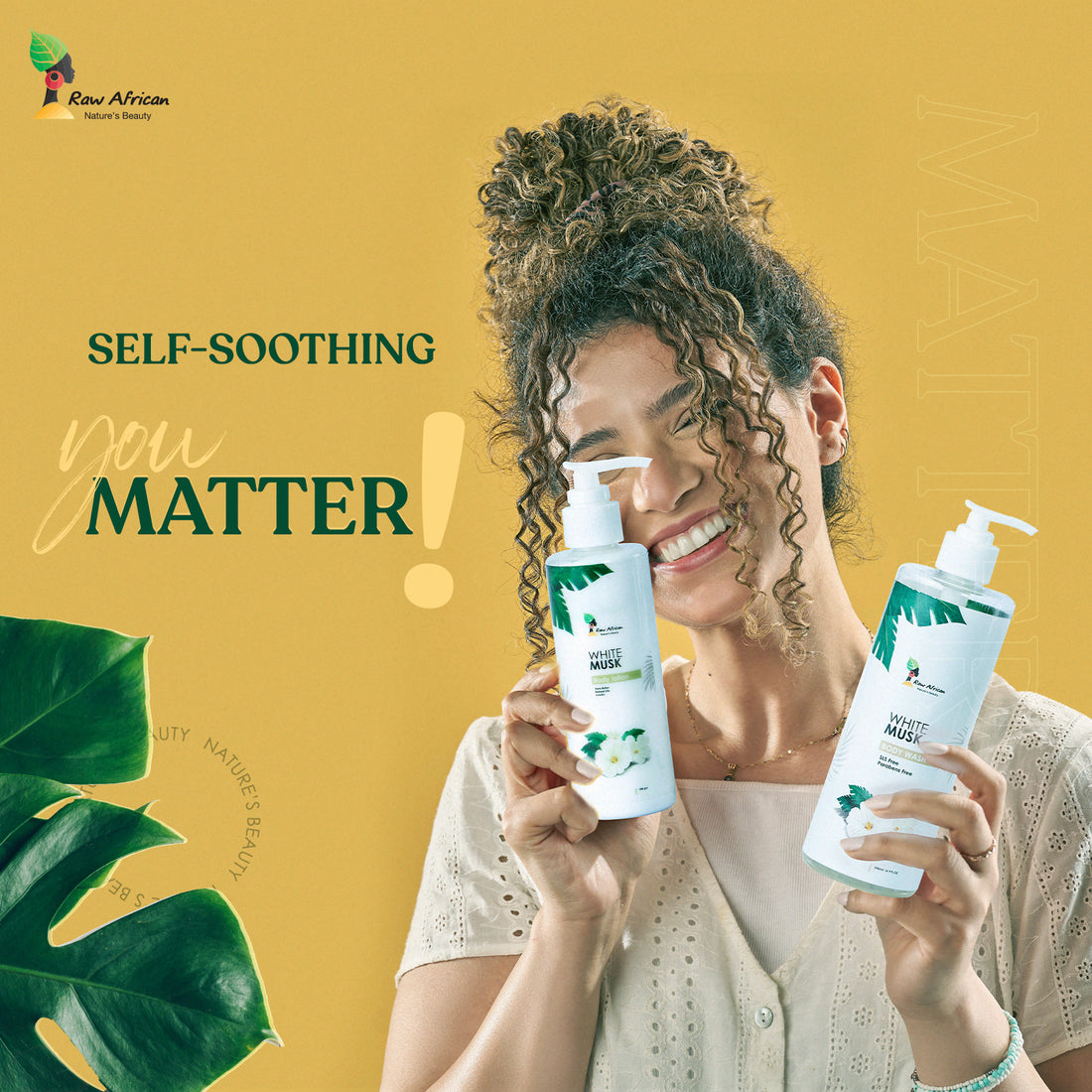 You Matter! - Self Soothing!
Walking our journey isn't an easy road, it's a road where we need to stand up for ourselves, and fight for our peace in the little moments we can actually feel; not only fight for it, create it!
Self soothing is very important in cases like ours. This is how we create more peaceful moments.  We always need to declutter and feel safe. 
Raw African brings you a worth-the-try solution!
The 1st thing to do to have a decluttered mind is good body rest. If you sleep well, eat well, and drink well, your body will prompt the mind that you are ok. Which would promote the mind to function smoothly without the excessive release of cortisol hormones which makes you feel stressed. It'd also promote the serotonin to easily function which would make you feel better and more relaxed.
Then comes our part. Using our fragrant body care sets will activate your sense of smell. Which would in turn activate the sense of reward and elevate your dopamine levels as well as make you feel more mindful and present in the moment. That would help your mind not wander off to the past or any painful memory. Remember, mindfulness is the key to enjoying the moment. And what is life if not a moment after the other, if we enjoy our moments, we enjoy our life.
Draw yourself a lovely bath with our body wash, we recommend you the very berry body wash, as fruity scents make you feel active and energized. Then gently exfoliate your body using our very berry exfoliator, and take your time. As gently touching our bodies sends our minds a signal that we are safe and loved. Also, giving time for self care promotes your sense of self and boosts your self confidence. 
After exfoliating, gently apply our very berry body lotion as a last step of your soothing shower. Fix your hair with our Leave in conditioner and have soft and nice smelling hair. Gently scrub your lips using our coconut heaven lip scrub and apply our coconut heaven lip balm. We recommend the coconut balm as it will moisten your lips and make it feel smooth and soft, along with its coconutty smell and taste…out of the world sensation. 
After the shower, we encourage you to light a candle and meditate. As meditation helps you to be more mindful of your surroundings which helps you feel more safe. A deep breath in, hold it, then a deep breath out. Enjoy the moment, and have a nicely mindful decluttered mind.