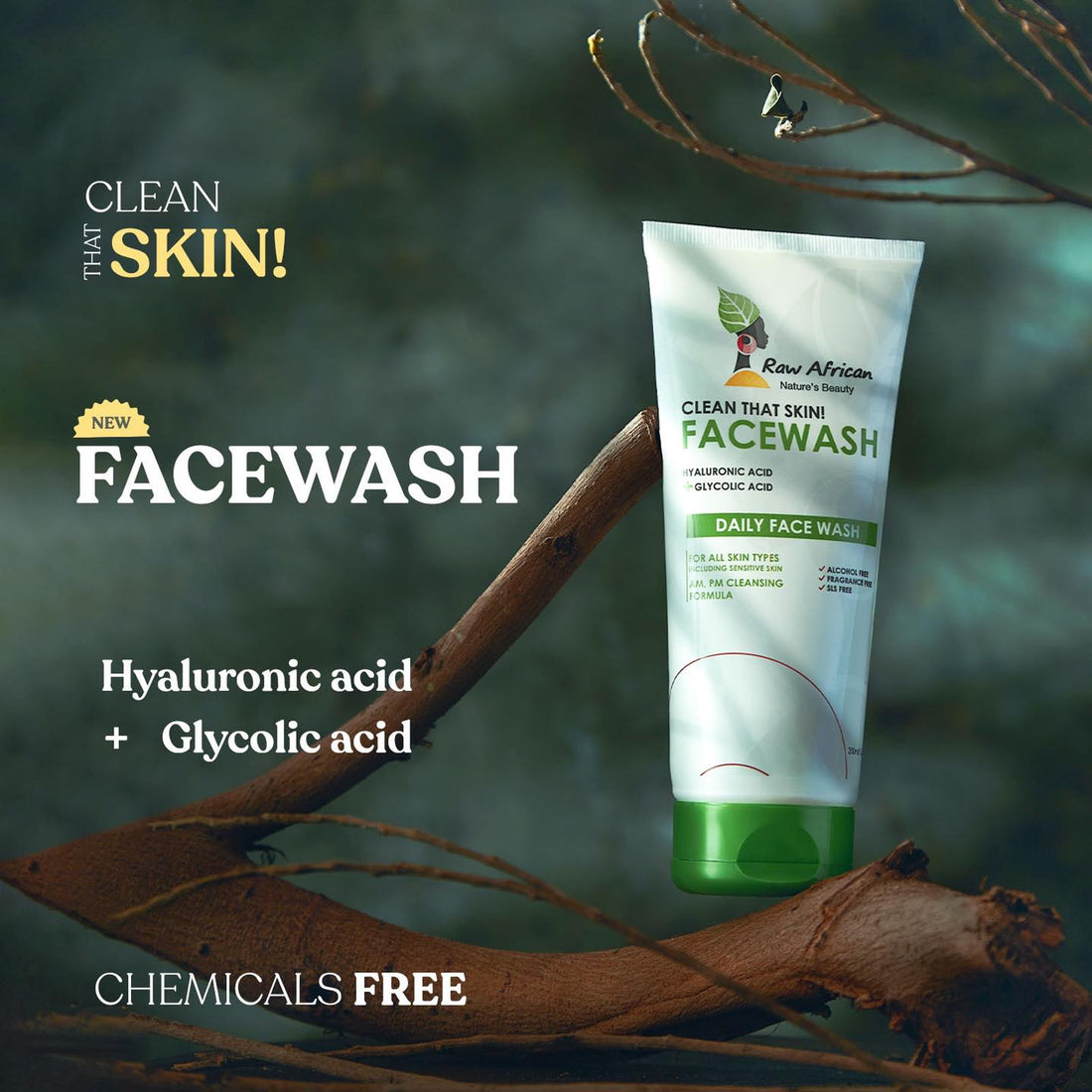 Clean That Skin!
Ever wondered where to find the best facial wash? Tried multiple brands but didn't complement your skin? What about a gentle makeup remover? One that does all the cleaning and yet protect and boost your skin? Well, look no further…Clean That Skin with Raw African now!
Raw African got you a new product line "Clean That Skin!" created especially for you so you can have a full skincare routine from Raw African. 
The line consists of a facewash and a micellar water makeup remover. 
Rich in hyaluronic and glycolic acids, our facial wash will moisturize, hydrate, and gently exfoliate your skin in one step. It also suits all skin types including sensitive skin as it is alcohol, fragrance and SLS free. SLS is sodium lauryl sulfate that is responsible for the foam you find in other face cleansers. It is a harsh chemical that causes dryness, itchiness as well as irritation in your skin.
With its formula that suits morning and night routines, our face wash is the perfect addition to your skin care routine. And not just that! It is rich in olive oil, aloe vera and chamomile extracts that works best alongside menthol to leave you with a moisturized, hydrated, fresh skin everyday. 
As for the micellar water, it is perfectly formulated to effectively clean and hydrate your skin after removing makeup. Its micelles dig deep into your pores and attract dirt and makeup particles to remove it and leave you with a squeaky clean skin. Thanks to its formula rich in rose water and cucumber extract it can be suitable as a cleanser as well as a toner after using your face wash. 
It is great for all skin types including sensitive skin as it is also alcohol and fragrance free. It can be used to remove eye and lip makeup as well…we know…you're welcome!
Clean that skin! is a line created to allow you a full night and day routine from your beloved Raw African products. Currently available in stores and online. Give it a try, then tell us what you think!